Finding the right music for your marketing video can be tricky — your content may feel quiet and boring without music, while the wrong choice could be intrusive and distracting.
It's easy to underestimate how much the right music can help you perfect your video and generate better results.
In this article, we'll cover some of the most important factors to consider when looking for music for your upcoming marketing video.
We'll also take a look at a few examples of music in commercials to illustrate the role good music can play in an effective advertisement.
Do I Really Need Music?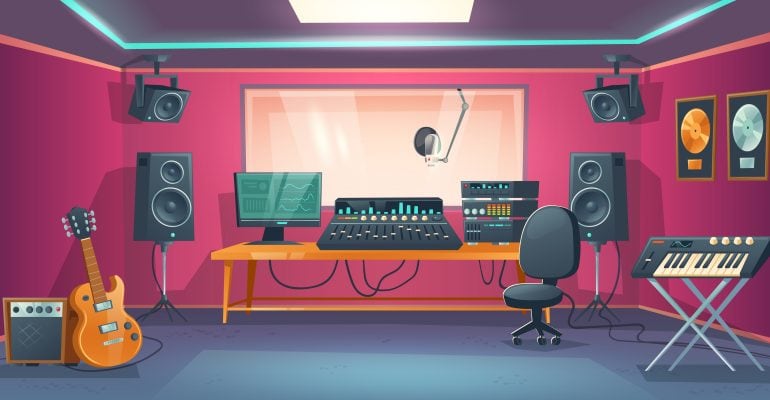 There are plenty of memorable ads that don't rely on music, so you don't necessarily have to include music to create great video content.
With that being said, the perfect music track combined with careful video editing will cultivate the perfect emotional response in your viewers.
Without music, some ads may come off as quiet or boring.
There will be a complete lack of sound during any pauses in your voice over, which may make it harder to keep an audience's attention.
Even if you don't need a song to be the centerpiece of your ad, background music can help you maintain an upbeat tone and fill any gaps in the voice recording.
Of course, this isn't to say that you should include music just for the sake of avoiding awkward pauses.
Just as the right music will supplement your ad, the wrong audio will distract from your content and clash with the tone you're trying to develop.
It's critical to keep looking until you find the perfect match for your video.
Getting Started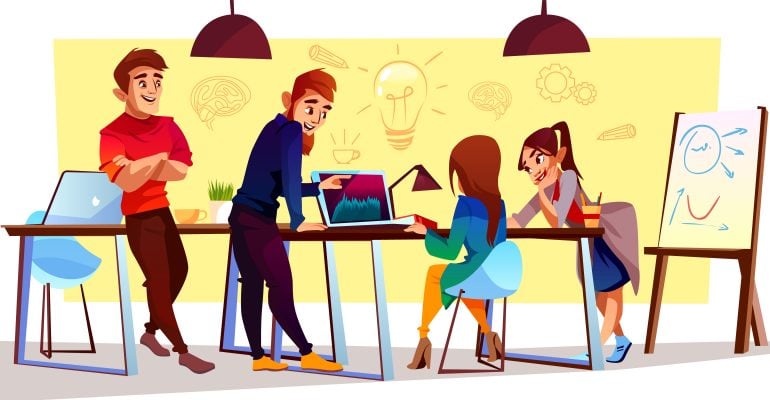 If you're planning to use music in an upcoming video, you may be wondering how to start the process of finding the ideal song.
With such a large volume of music out there, it can be overwhelming to even begin narrowing it down to a short list of great options.
Audience Takeaways
First, consider your goals for the video—in other words, what you want viewers to take away from your content.
An explainer video, for example, may benefit from very different music than an entertaining TV ad.
Similarly, ads for products and services typically contain a different music selection compared to ads for nonprofits and other charitable causes.
Keep in mind that this process should also involve identifying anything you want viewers to do after seeing the video.
You might want them to visit your website, buy your products, donate to your cause, tell their friends and family, follow you on social media, or take a wide range of other actions.
These goals will give you a foundation for the entire content development process.
Once you have a clear direction, you can start looking at a smaller selection of music.
If you're selling products in the fitness niche, for example, you'll probably want to use fast, upbeat music rather than something slow or overly emotional.
The interplay between music and the content of a video ad is one good reason to consider the music selection before you've developed the rest of the video.
Genre
Of course, one of the most important considerations when selecting music for your ad is what genre you want to use.
While some genres can work well in a variety of settings, there should be a close connection between the visual content, the overall message, and the music selection.
Rock
Rock is an easy default option for background music—it typically focuses more on rhythm than melody or harmony, and you can find both instrumental and vocal selections depending on your needs.
A simple rock beat will add some pacing to your video and drive the ad forward to its conclusion.
This may also be a good choice if your commercial involves content that's intended to be motivating.
This Bowflex ad is a perfect example of a mild rock beat adding to a video's overall tone without distracting from the voice over or the visual content.
Classical
Classical is another common accompaniment for a variety of contexts.
While classical music is often associated with calm, serene melodies, it's actually a much wider field that can be applied to many other situations.
Action scenes in movies, for example, are often emphasized by intense classical backgrounds that underline the action.
Some classical includes vocal arrangements, but music used in commercials, movies, TV shows, and other video productions is typically instrumental.
Classical includes piano music, orchestral music, chamber music, and so many other subgenres.
Whatever the mood of your content, you'll be able to find a classical music track to fit your needs.
In many cases, classical music is used ironically to contrast with the silly or trivial content of an ad or other video.
This Purina ad is a great illustration of this trend, juxtaposing the intense vocal music with dramatic videos of a dog who's dreaming of swimming while actually laying on the couch.
Most recognizable classical music is in the public domain, so you won't have to worry about paying royalties or securing a license. This makes it a good option for smaller companies that want to create promotional videos on a limited budget.
Jazz
Finally, jazz shares some common ground with classical while also offering a totally unique field of rhythms and melodies.
It's typically considered more chaotic and free-form than classical music, although some classical composers were strongly influenced by jazz conventions.
Like classical music, jazz is an incredibly diverse genre that uses a wide range of instruments and takes its own cues from many musical influences.
It tends to have a more modern appeal in contrast to the more traditional associations that many people have with classical music—particularly works composed before roughly 1900.
Jazz also carries some helpful associations that make it a good fit for some brands.
In the Grey Goose commercial below, for example, the music takes center stage for large sections of the commercial rather than acting as background for an actor or voice over artist.
The visual content, black and white style, and short voice over combine with the jazz to display the ideal brand image that Grey Goose is going for.
Audience Characteristics
At this point, you may also be ready to narrow down your choices by identifying certain characteristics of your target audience.
Videos targeting seniors, for example, shouldn't have the same music as videos targeting millennials or members of Gen Z.
Along with age, you might also want to select music based on other factors such as gender, location, income, common occupations, and more.
Remember that your goal isn't to find music that appeals to the entire US population—you should be looking for music that will resonate with the specific audience groups that you want to see the video.
Timing
It's important to keep the timing of your ad in mind when looking for the right audio track.
For example, you might want something that comes with an intro or outro that will fit the beginning and end of your ad.
Some commercials also align pauses in music with pauses in a voice over to optimize pacing and provide a rest before key moments of the ad.
Fortunately, many royalty-free music services offer tools to splice different sections of a track to fit your needs.
Lining up audio elements with the visual side of your content will add an extra level of professionalism and help you catch your audience's attention.
Background or Foreground?
From there, the next step is determining whether you want the music to play in the background or act as the main audio track for your video production.
The Nike ad below is an ideal example of background music playing underneath a voice over:
The same music might feel too simple or repetitive if used in the foreground, but it perfectly complements the uplifting, inspirational nature of the video as well as the voice over.
The music itself is kept at a low volume to avoid distracting from the voice over or making the audio less clear for viewers.
Notice that the tone of the music shifts when the ad pivots to the impact of the coronavirus pandemic on sports.
Again, the background music never pulls attention away from anything else—it's a subtle change that keeps the audio track in alignment with what's going on on screen.
On the other hand, this Adidas ad relies on simple piano music in the foreground and doesn't include another audio track.
This allows them to tell a story through the acting alone, and again the music is ideally suited to the tone of the video.
The content itself is less explicit than that of the Nike ad since there aren't any references to politics or any specific events.
The video therefore doesn't require a voice over to communicate any clear lesson or takeaway.
Instead, the music and video simply create an association between Adidas and the mental, emotional, and physical benefits of exercise represented in the "break free" slogan which appears at the end of the video.
There's no right marketing strategy here—both ways can work, but your approach will also have an effect on your music selection.
While both instrumental and vocal music can work well in the right setting, remember that overly lyrical music can be distracting if it's playing behind a voice over.
Your audience shouldn't have to follow two sets of words at the same time, so instrumentals tend to play better than vocals in the context of background music.
These considerations might sound obvious, but those three steps will go a long way toward narrowing down your choices.
From there, you'll be ready to start reducing the field to specific songs and workshopping ideas until you're able to identify the perfect option.
Where to Find Music for Your Marketing Video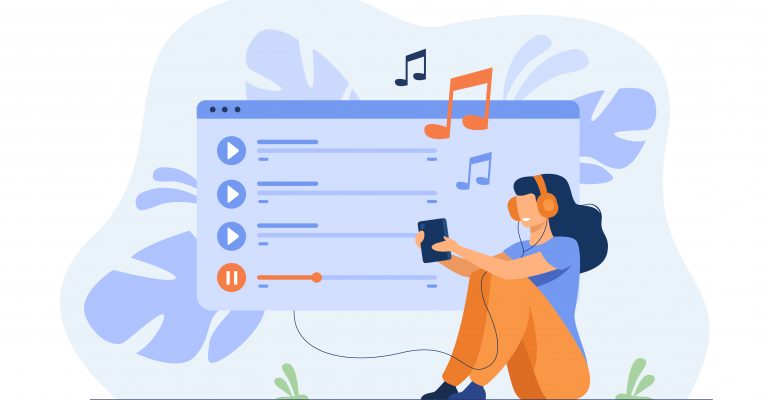 Now that you're moving from the general to the specific, it's time to look at a handful of music libraries to supply the audio you're looking for.
Whether you want to find royalty free music or licensed music, there are a few good places to start your search.
In this section, we'll take a look at some of the best ways to find music for video marketing—keep in mind that these are just five of many, many outstanding platforms.
YouTube Audio Library
In terms of free music, it's tough to beat the YouTube Audio Library.
Everything on the channel is free to use as long as you credit the original creator and ask for permission before publishing your video outside of YouTube.
This platform is specifically designed for content creators who need an audio file, making it ideally suited to content marketing and other corporate projects.
It also contains music for almost any tone, so it's an excellent starting point—you can always move on to some of the other sources below if you don't find what you're looking for.
The Audio Library breaks content out into helpful playlists that make your search even simpler.
As you can see in the image below, there are playlists for every mood including happy, inspirational, calm, bright, dark, and more.
Some playlists are selected by genre instead of mood, giving you even more options. An individual playlist can also contain hundreds of songs—if you have a specific feeling in mind, you should be able to find it in the YouTube Audio Library.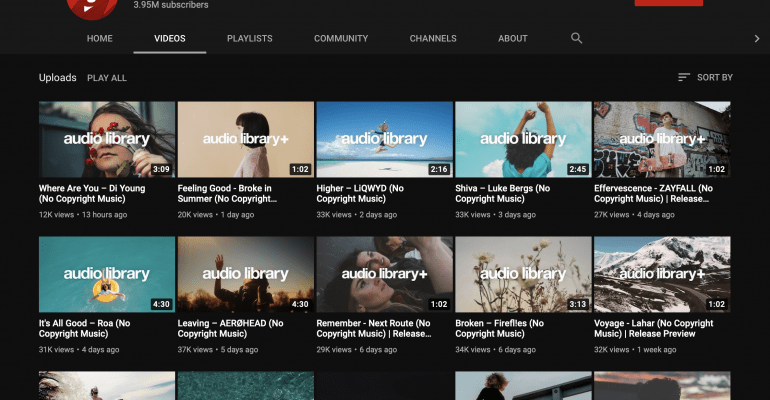 On the other hand, this isn't to say that the YouTube Audio Library is the perfect resource for every project.
Some paid platforms offer an even wider music library, and you're not going to find any well-known music.
The YouTube Audio Library has a good selection of background music for any style of promotional video, but it may not hold up as well if you need a foreground track.
PremiumBeat
PremiumBeat is another popular option for royalty-free music, and the added cost may be a good investment if it helps you develop a high-quality video.
Individual licenses are typically available for $49 each, or $199 each if you need audio for content that won't be published online (e.g. TV and radio ads, music for TV and film, or projects for trade shows).
If you need royalty-free music regularly, you can also get a paid subscription for $64.95 per month with a three-month upfront commitment.
This covers five standard licenses per month, but unused licenses won't carry over to the next month—in other words, you won't end up taking full advantage of the subscription unless you need exactly five licenses every month.
Keep in mind that you will still have to pay separately if you ever need a Premium license.
In addition to its deep collection of royalty-free music, PremiumBeat also provides convenient shorts and loops that are well-suited to a wide range of videos.
If you only want to play particular sections of a song for a 30-second ad, for example, you can quickly set that up using the pre-set shorts that come with each license.
Like the YouTube Audio Library, PremiumBeat has audio to suit essentially any project, but it goes even further by providing convenient tools to aid your search.
Users can search by keyword or with filters for genre, mood, or collection (collections can be anything from "coffee house" or "sounds of Brazil" to "holiday party" or "corporate cool").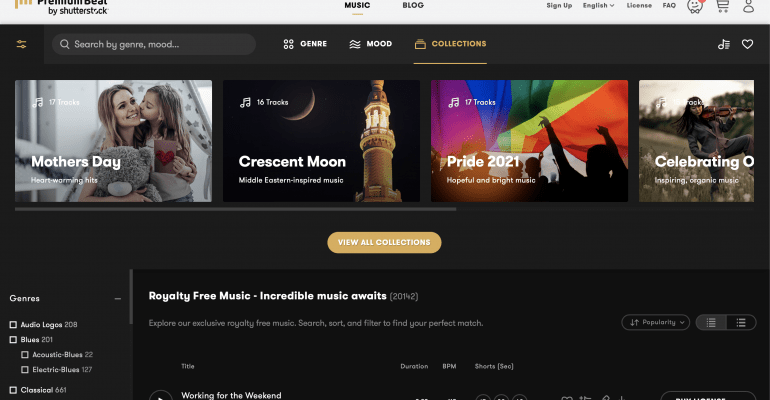 Adobe Stock
Adobe Stock is a massive collection of stock assets that includes everything from video and audio files to photos, illustrations, 3D models, and more.
Premium plans start at $29.99 per month when paid annually and cover all types of assets—for example, you can get 40 monthly assets for $79.99 per month if you pay for a full year at the beginning of your subscription.
One downside of Adobe Stock is that there's no option to buy an individual license.
Instead, you'll need to start a subscription and spend at least $29.99 on three assets per month.
Adobe Stock has an incredible collection of content, and its search function works similarly to PremiumBeat's.
Files are tagged by genre and mood, and you can use multiple features to get an even narrower focus.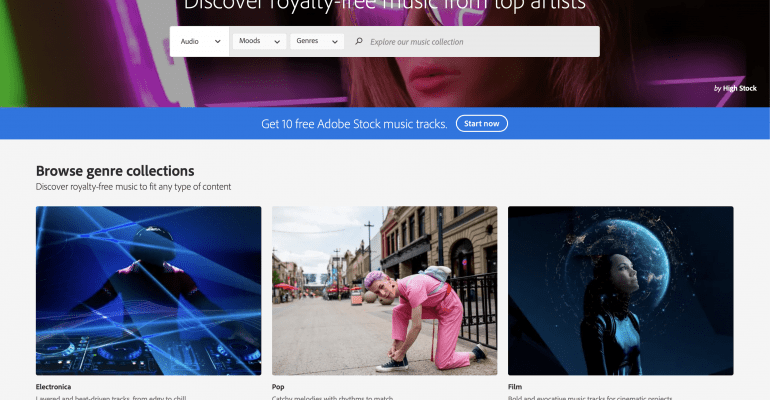 Epidemic Sound
Epidemic Sound is a platform that offers royalty-free music and sound effects on a subscription basis.
Personal and commercial plans are available, and you can start with a 30-day free trial if you're unsure of whether to continue with a paid subscription.
Personal plans cost $15 per month (or $144 per year paid annually) and allow users to post their content on YouTube, Facebook, Instagram, Twitch, and podcasts on one page or channel per platform.
Commercial subscriptions expand support for other websites and online platforms while offering unlimited digital ads for $49 per month ($299 per year).
Finally, custom Enterprise solutions including a dedicated account manager, support for multiple users, and clearance for TV and streaming services are available with custom quotes depending on your needs.
You should consider starting with a free trial if you're considering contacting Epidemic Sound sales for an Enterprise quote.
After starting with Epidemic Sound, you'll have access to more than 90,000 sound effects and 35,000 music tracks.
There's no limit to how much you can download, so you won't have to worry about staying under a particular maximum.
With that in mind, this is a great option for anyone who wants to gain access to unlimited audio tracks.
Like its top competitors, Epidemic Sound categorizes audio based on a number of criteria: mood, genre, tempo, and length along with whether the music is instrumental or includes vocals.
These filters can quickly be stacked on top of each other for an even narrower search.
Standalone licenses are also available, but the subscription option will likely be more affordable for those with ongoing audio needs.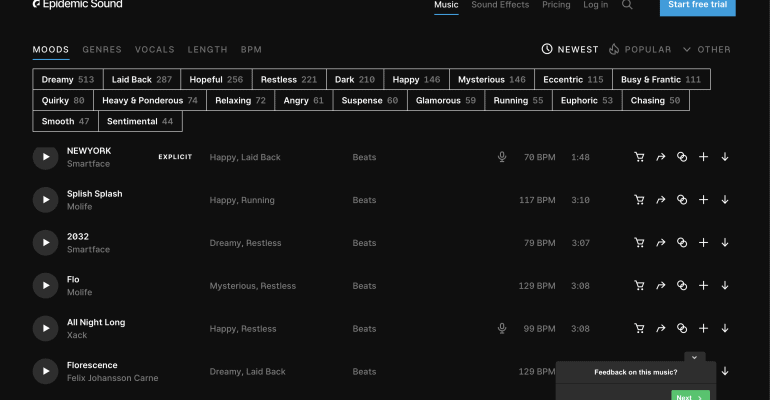 Audio Buzz
Audio Buzz offers unlimited royalty-free music to paid subscribers, although users can also buy single licenses.
Individual tracks cost $29 each while annual subscriptions cost $189, which works out to an effective rate of $15.75 per month.
With Audio Buzz, you'll have access to common search filters like mood, genre, vocals, tempo, and length along with additional criteria including instrument, composer, and the presence of a buildup (instead of staying stable throughout the track).
Of course, these filters can all be overlaid on each other to help you find what you're looking for.
Audio Buzz also provides a helpful video preview tool that displays exactly how your selected music will sound over an existing video file.
This feature removes the need to download a track, plug it into your video, and see whether it works before moving onto another option.
Furthermore, licenses won't expire at the end of your subscription if you have the annual plan, so you won't have to keep an active subscription just to continue using tracks you already downloaded.
Audio Buzz bills once per year rather than every month, so make sure to confirm that you still want access before you reach the renewal date.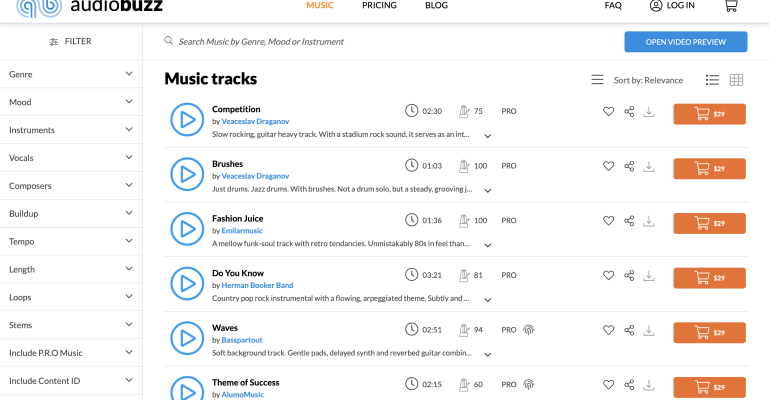 Independent Composers
Royalty-free music subscriptions are an incredible tool for video marketing, but some campaigns may be even more successful with an independent composer.
While working directly with a composer is often more expensive than paying for an existing audio file, it's the best way to get music that's specifically tailored to your unique brand.
Independent composers are particularly helpful for ongoing collaboration—for example, if you're planning to release a series of ads with the same theme.
With a little research, you'll be able to find the perfect composer for the tone and style you're looking for.
Finding the right music for a marketing video can be complicated, but it's incredibly satisfying to identify the perfect track for your content.
These tips will help you get through the search process more quickly and develop a video that resonates with your target audience.