Find a voice actor for your project
Listen to voice samples, invite talent to audition and quote for your project – all for free!
You'll quickly receive proposals straight to your inbox.
Alternatively, you can contact us to manage your project from A-Z!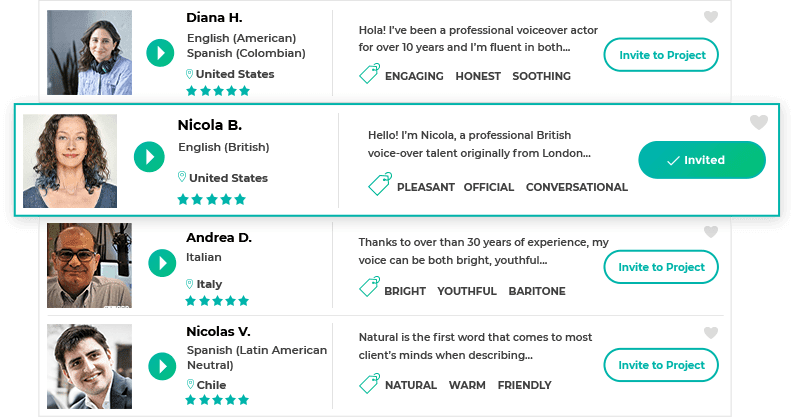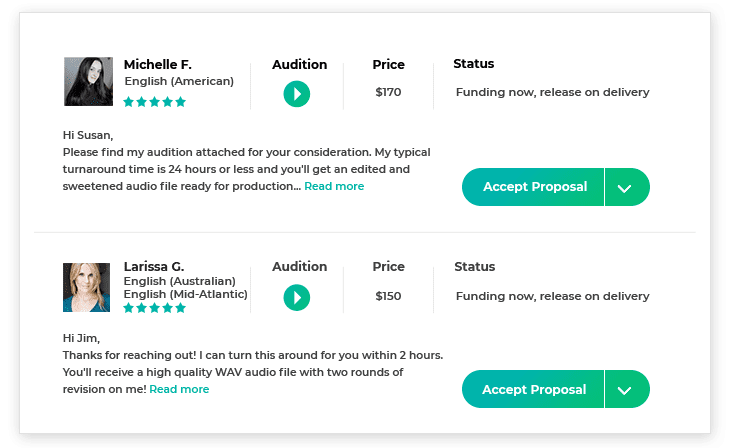 Hire the perfect voice
Choose the best voice actor for the job, fund the project and communicate via our message board.
Your funds will be held securely until your voice over recording is ready.
All done!
Approve the voice over recording once you're happy with it
and release funds to the talent with a click of a button. Done!

Pre-Screened Professionals
We carefully vet and only work with professional voice actors who have proven commercial VO experience, so you're guaranteed to receive perfect results every time!
Our Network
Our extensive global network of talents and collaboration with numerous studios allows us to find native talents in exotic languages that may not be offered by most other companies.
Full Service
Transcription, translation, subtitling and video editing, and just about any post-production service you can think of – we can handle it!
Quick Casting
Quickly find the right voice actor through our deep search function. We have native talents in every language and we cover every style so you're guaranteed to find the perfect match!
Online Direction
Want to listen in on the session? Just schedule a call with your talent of choice through our message board and direct them in real-time from the comfort of your desk. It's that easy!
Turnaround
Most projects are delivered within a few hours. Larger projects may take longer, but we are ready to take on any challenge. in a rush? Contact us today!
Pro. voices. only.
Get quality voice overs from experienced pros.
Any language.
Any category.
Any style.
Top Languages
Top Categories
Top Styles
+ Plus we offer you
Looking for amazing production music for your video production? Visit our royalty-free music site and find fresh creative tracks we've curated from some of the best artists around the world at affordable prices and for any usage!
Production Music for Video
We provide excellent post production services such as foley and sound effects, audio sync to picture, subtitling and light video editing, as well as format conversion (audio and video).
Post-Production Services
We're experts in converting your source video to different languages. From the translation phase to the rendering of the target language videos – and everything in between. Look no further!
Video Translation
Anat Kutner,
Sunday Sky
Sunday Sky have been working with Voice Crafters since 2010. During all these years we have been getting the best service you can expect from a vendor. Our voice over requirements are more challenging than the average client, and voice crafters always rises to the occasion, in a professional, pleasant, organized manner. And you get all of this for a very fair price!
Andreas Seidler,
MT.Recordings
We've been working with Voice Crafters since 2012 on various IVR, commercial and corporate projects. They have a huge database with excellent voice artists, are very professional and at fair rates. We are happy to know them and look forward to the next 5 years!
Audelia Boker,
NICE
My team works with Voice Crafters on an on-going basis and it's always a no-brainer experience! Professional. Fast. Flexible. Creative. Customer Centric. Good Value for money. What more can one ask for?!
Find native professional voice actors in over 80 languages