If you're looking to record professional-quality voice overs, your vocal talent is just one piece of the puzzle.
A typical voice recording setup includes soundproofing – to minimize outside noise from entering your recording environment; Acoustic treatment – to minimize the reverberation in the room or booth you record in; Audio recording equipment such as a microphone and an interface; and finally – audio recording software, otherwise known as a DAW (Digital Audio Workstation).
These applications are designed to streamline the voice over process by enabling high-quality recordings and providing integrated editing tools for audio optimization.
Nearly every digital audio workspace (DAW) comes with robust editing and processing tools, so the best software is typically the one you're most comfortable with.
But still….How do you choose what's right for you?
6 Questions to Ask When Looking for Voice Over Software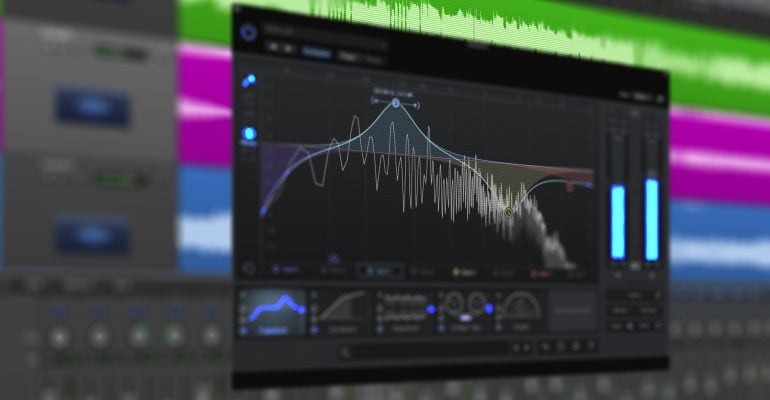 1. What Are Your Needs?
Of course, the first thing you need to confirm is that the voice over software you're considering actually offers all of the tools you need for a successful project.
But besides recording and editing your voice over, do you also perform post-production work?
Will you need to sync your voice over to a video on occasion?
Do you need to fully edit and process your audio or mostly send raw files to your clients?
Identify what your needs are and make sure the DAW you choose can help you accomplish them through a simple and intuitive workflow that works for you.
2. What Software Do Your Clients Use?
Clients use different DAWs to accomplish their tasks.
While you're obviously not expected to buy every DAW on the market, it might be worthwhile to identify what your main clients use.
Most clients will ask for a raw or processed audio file from you.
However, sometimes, especially if you perform post-production work, having the ability to share your DAW's session files with the client can help get the work done faster and smoother.
3. Is It Compatible with Your Computer?
Before spending any money, you should confirm that the software you're buying will work well on your computer.
Digital audio workspaces are often extremely resource-intensive, which can lead to slowdowns and other technical issues.
This is especially true if you're using an older device or operating system, which may not be optimized for the latest software.
Don't forget that some applications are designed for a specific operating system such as Windows or macOS.
Providers offer compatibility information on their website, but you may also be able to access a trial or demo in order to see the software in practice.
4. Is It Intuitive and User-Friendly?
Next, take some time to look over the applications you're considering and see how they work in practice.
While every provider puts flattering screenshots and videos up on their website, there's no replacement for hands-on experience when it comes to using voice over software.
Ideally, you should be able to pick up new software and get to work in just a few minutes.
If you're having trouble getting started or understanding how a particular application works, you may be better off with an alternative that you find easier to use.
5. What Do Real Users Say?
You're not the first person to look for voice over software, so don't forget to consider the experiences of existing users.
Facebook groups, forums, and other online communities make it easy to connect with others who are involved with voice over work.
Read through user impressions of any platforms you're still considering and see what they like and dislike about each service.
Reviews are particularly valuable when they come from users who have experience with multiple platforms and can recognize the pros and cons of each one.
6. 3rd-Party Plugin Support
Okay, this might be the least important parameter when deciding on which recording software to go with.
However, it's worth mentioning that every DAW supports different plugin formats, so if there are plugins you simply MUST have, make sure the DAW of your choice supports the format/s they are offered in.
We've listed the plugin standards each DAW supports for your reference.
And with that, let's take a look at the best voice over applications you can find in 2022.
1. Audacity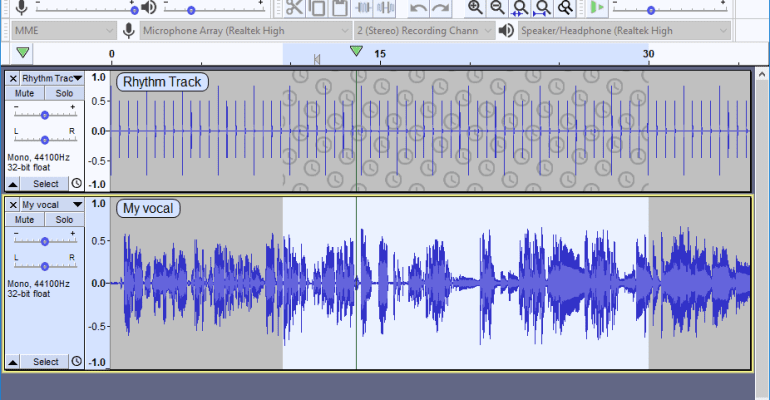 Audacity is one of the most commonly used audio platforms, and it's easy to see why.
It's a free and open-source application, so you can download it at no charge.
Even better, it's available on Windows, macOS, and Linux, and there's an active community in the Audacity forums.
While the interface isn't quite as sleek as competitors like Garageband, Logic, or Adobe Audition, it still makes it easy for users to find the function they're looking for.
Audacity also supports the basic editing functions you'll need for most projects including live audio recording, keyboard shortcuts, volume adjustments, and equalization.
The application was involved in a major controversy when new owner Muse Group introduced provisions into the privacy policy that allowed for expanded data sharing.
However, Muse Group ended up revising their privacy policy in response to user complaints.
Regardless of what operating system you're using, Audacity is a great place to start and one of the best free voice over applications available in 2022.
Audacity 3rd Party Plugin Formats
Audacity supports the following plugin formats:
LADSPA plugins.
LV2 plugins.
Nyquist plugins.
Vamp Analysis plugins.
VST effect plugins (only on Windows and Mac).
Audio Unit plugins (only on Mac)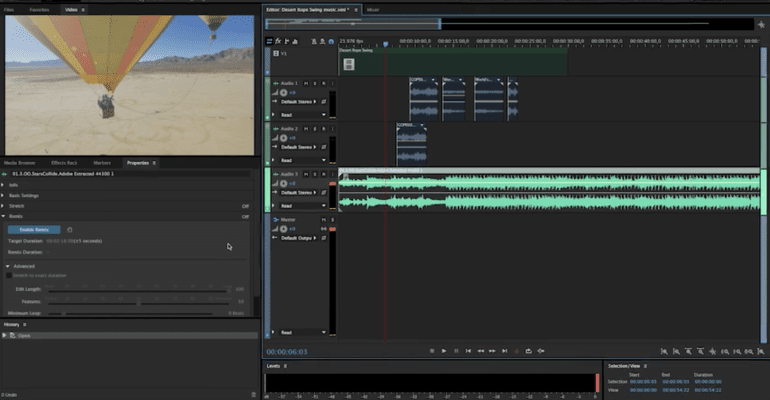 Audition is Adobe's flagship audio recording and editing software, and it's also part of the larger Adobe Creative Cloud suite.
Adobe Audition is arguably the most popular DAW among professional voice actors.
Subscriptions to Audition are currently available for $20.99 per month when prepaid annually or $31.49 per month when paid monthly.
Alternatively, you can get Audition through a subscription to all Creative Cloud apps for $52.99 per month paid annually or $79.49 per month paid monthly.
Team plans are available for businesses and organizations, and Adobe also offers Creative Cloud student subscriptions for just $19.99 per month for the first year when you pay for the full year in advance.
If you have experience with other Adobe applications, you'll be right at home with the familiar Audition design.
You'll also be able to leverage a long list of editing capabilities such as multitrack, waveform, and spectral displays.
Furthermore, Adobe Audition comes with a powerful noise reduction feature to help users minimize breaths, background noises, and other intrusive sounds.
While Audition's range of features can be overwhelming, Adobe provides a comprehensive set of support resources to help users take full advantage of the platform.
Adobe Audition 3rd Party Plugin Formats
Adobe Audition supports third-party 64-bit audio plugins in VST 2.4, VST 3.0 formats for macOS and Windows, and Audio Units (AU) for macOS.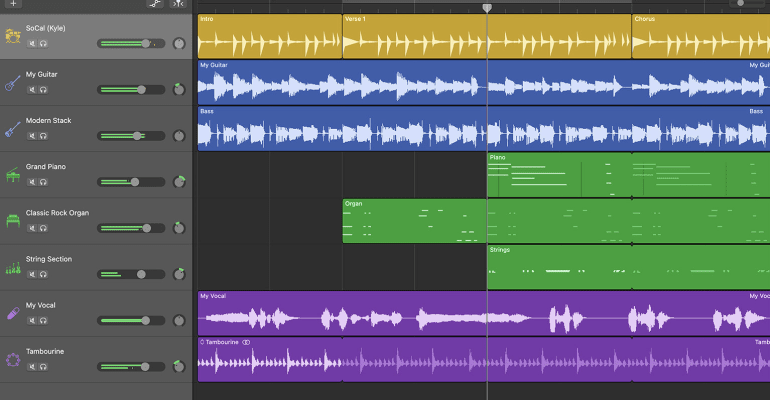 If you have a Mac computer, you might not even have to install any additional applications in order to access high-quality voice over software.
While Garageband is missing some of the advanced features that come with more professional applications, it's incredibly easy to use and viable for most small-scale projects.
It comes with an impressive collection of sound effects and instruments plus loops from a variety of different genres and styles.
Users can quickly adjust the volume and equalization for individual tracks, and Garageband supports as many as 255 tracks in a single file.
Apple also offers a relatively robust Garageband app for iPhones and iPads, helping you stay on top of your voice over projects on a wider range of devices.
Garageband 3rd Party Plugin Formats
Adobe Audition supports audio plugins in Audio Units (AU) for macOS.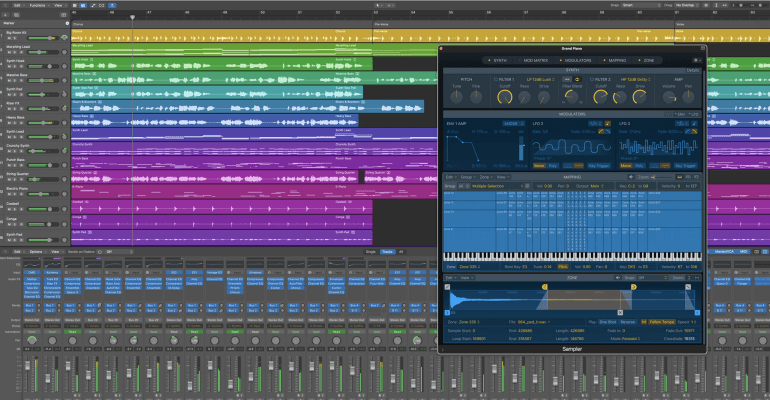 Logic Pro is Apple's premium counterpart to the base Garageband software, primarily intended for professionals and serious enthusiasts.
The full license is a little steep at $199.99 on the Mac App Store, but new users can start with a generous 90-day free trial before deciding whether to purchase the software.
Logic's interface can be a little overwhelming if you don't have experience with it, but the design is somewhat similar to Garageband and shouldn't take you too long to learn.
The license also includes access to a deep library of samples, loops, and instruments to help you supplement your voice over.
While Logic Pro might be overkill for simple voice over projects, it's a great option for users who don't feel they're getting enough out of Garageband.
You can even transfer existing Garageband projects directly into Logic Pro after upgrading, making it easier than ever to transition without losing any of your progress.
Logic Pro 3rd Party Plugin Formats
Like Garageband, Logic Pro uses the Mac only format Audio Units (AU) to host 3rd party plugins.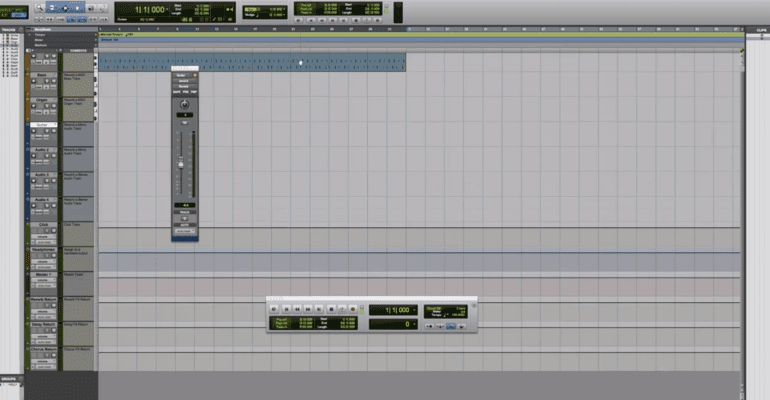 Avid Pro Tools is one of the most popular applications among musicians, voice over artists, and other professionals whose work involves audio recording, editing, mixing & mastering.
Pro Tools is considered to be the industry standard software for music and post-production applications.
Like Adobe Audition, it's available through a monthly subscription rather than a one-time license fee.
While you can use a limited set of features for free, most users will likely prefer one of the platform's two paid plans.
From $29.99 per month, the basic Pro Tools application comes with expanded capabilities including more audio tracks, extra plugins, and a higher sample rate.
The Ultimate version adds even more tools such as surround and Dolby Atmos mixing, support for up to 64 video tracks, and in-the-box dubbing for as little as $79.99 per month.
Significant discounts are available for students and teachers, bringing those prices down to $9.99 per month and $29.99 per month, respectively.
Avid offers a variety of hardware options to complement the Pro Tools software, and mobile apps are also available for both iOS and Android devices.
Pro Tools 3rd Party Plugin Formats
Avid Pro Tools supports plugins in 64-bit AAX format.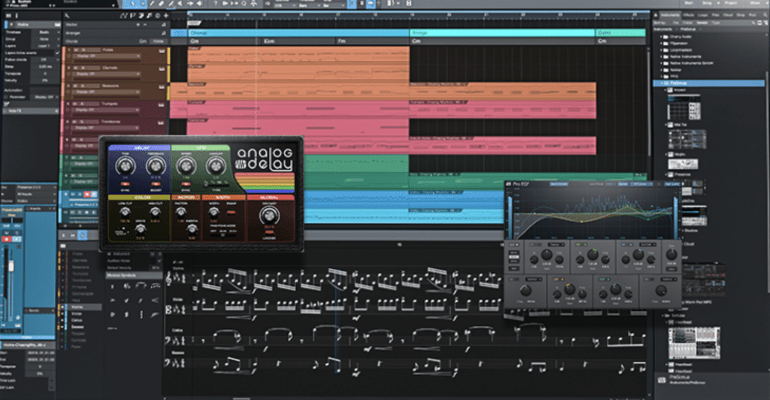 Studio One by PreSonus, is a digital audio workspace that helps creators through the entire recording and mixing process.
Its classic drag-and-drop interface is easy for anyone to pick up, yet it's still powerful enough for projects at virtually any scale.
While many of its tools are designed for composers and musicians, it also offers a variety of features that voice actors and voice over producers will love.
Studio One's scratch pads, for example, enable users to experiment with different changes to an existing track, then easily revert to the original version as needed.
Best of all, Studio One integrates seamlessly with the entire PreSonus library, and the PreSonus Sphere subscription includes other helpful resources like cloud collaboration with 30 GB of storage.
The Studio One Artist license is currently available for a one-time fee of $99.95.
Artist comes with most basic features, but it's missing some advanced plugins and extra features such as score editing and project pages that come with the Professional tier ($399.95).
However, you might also be interested in upgrading to the Sphere plan, which costs $14.95 per month or $164.95 per month paid annually, which works out to one free month per year.
As mentioned above, Sphere users get cloud capabilities with a full 30 GB of included storage.
They also gain access to the entire Studio One Professional platform plus even more tools like masterclasses, audio batch conversion, and one-on-one chat support.
PreSonus even offers a 30-day free trial of the Professional tier to give new users a taste of what the application can do.
Studio One 3rd Party Plugin Formats
Studio One supports audio plugins in VST2, VST3, ReWire and Audio Unit (AU) formats.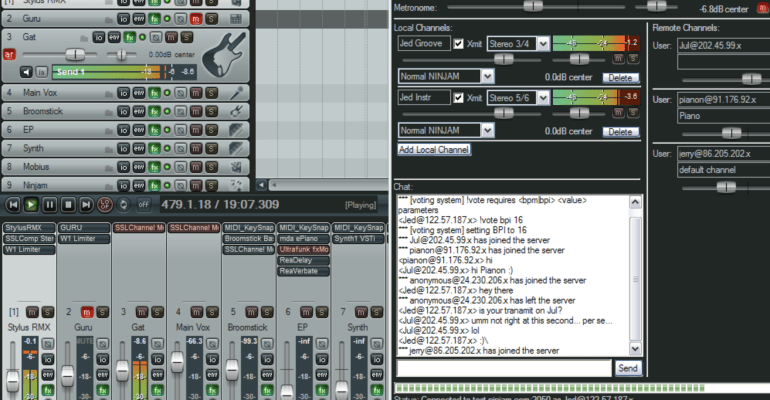 While Reaper doesn't look quite as sleek as Studio One, Logic Pro, Adobe Audition, or some of the other premium tools we've mentioned, it offers most of the same features at a lower cost.
Reaper is quickly becoming one of the most popular DAWs among audio professionals and is highly praised despite its low cost.
Reaper licenses are currently available for a one-time fee of $225, but that drops all the way to $60 for a discounted license.
You may be eligible for a discounted license if you want the application for personal use, or if you're planning to use it for a business that generates less than $20,000 in annual revenue.
Discounted licenses are also available to educational and nonprofit organizations.
The application itself comes with the features you would expect from any contemporary digital audio workspace, including an unlimited number of simultaneous recordings and a familiar drag-and-drop design.
Users can also supplement the base Reaper platform with a strong collection of plugins covering every function from multiband EQ and compression to multivoice pitch shifting, synthesizers, and drum tracks.
With robust features, helpful plugins, and an active community of users on the support forums, Reaper is a great all-around choice for voice over artists who are interested in a new digital audio workspace.
Reaper 3rd Party Plugin Formats
Reaper supports audio plugins in VST2, VST3 and Audio Unit (AU) formats.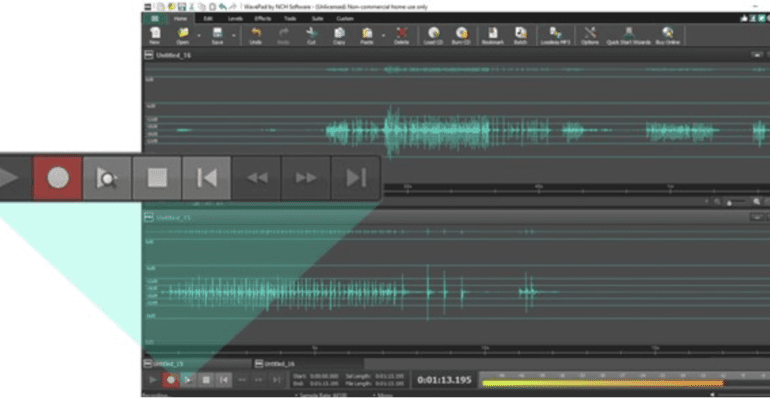 WavePad is another voice over application that's available for both Mac and Windows computers.
Unlike most of the alternatives, WavePad is actually free for non-commercial users.
However, the website only says that the free version comes with "many of the features of the master's version," so the difference between the two tiers is relatively unclear.
Base prices for premium WavePad licenses are $60 for Standard and $99 for Master, but these are regularly discounted, and we've seen them as low as $39.95 and $69.95.
If you only need access for a short-term project, you can also get the Master's edition on a quarterly basis for $16.50 per quarter, which works out to $66 per year.
Of course, you should spring for the permanent license if you think you're likely to continue using the platform.
WavePad comes with built-in support for most basic audio editing functions like pitch shifting, amplification, normalization, equalization, echo, and reverse.
It also supports batch processing, making it easy to apply changes to an entire set of files at a time.
Furthermore, all WavePad tiers come with a thorough library of sound effects to supplement your recordings.
WavePad is mostly designed for desktop use on Mac and Windows, but it also offers surprisingly functional mobile editing apps on both iOS and Android.
While the iOS application has a respectable 4.6 average score over more than 3,000 reviews, its Android counterpart has a much lower rating of 3.6 covering over 36,000 users.
WavePad 3rd Party Plugin Formats
WavePad supports DirectX and VST plugin formats.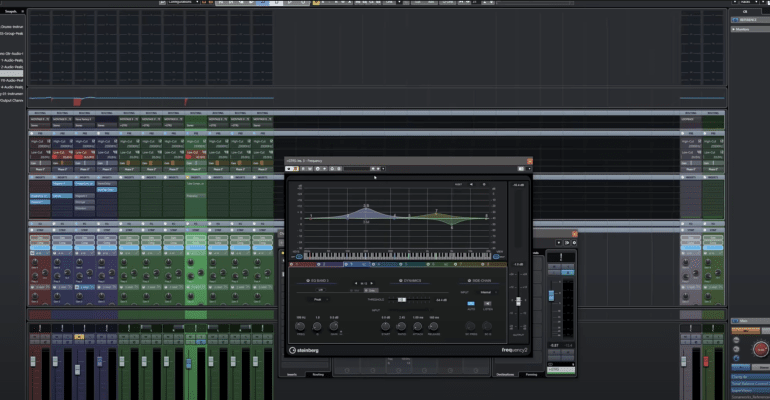 Cubase is a digital audio workspace that's primarily marketed toward musicians, but could also be an ideal option for some users who work in the voice over industry.
Its deep collection of features is likely to be overwhelming to new users, especially those who don't have much experience with other voice over tools.
However, it also offers a much more powerful collection of tools than Garageband and other basic platforms that are intended for home users.
The main downside to Cubase is that voice over artists may be paying for features they don't need, such as fine-grained pitch editing, chord editing, and score editing.
Fortunately, you can start with a 30-day free trial if you want to test out the platform without spending any money or incurring any risk.
From there, pricing for Cubase will depend on the tier you're interested in.
At $99.99 for a lifetime license, Elements is the most affordable way to access Cubase, but also the most limited.
Elements users don't miss out on any basic audio editing tools, but they can't access certain key features such as unlimited audio and MIDI tracks, comping, in-place rendering, or the full collection of Cubase effects and virtual instruments.
The Artist tier removes these limitations for a one-time payment of $337.98, but it's still not as complete as the flagship Pro subscription.
Pro currently costs $587.98 for a lifetime license and comes with the entire Cubase toolkit, including AAF and OMF support.
Cubase 3rd Party Plugin Formats
Cubase supports audio plugins in VST2 and VST3 formats.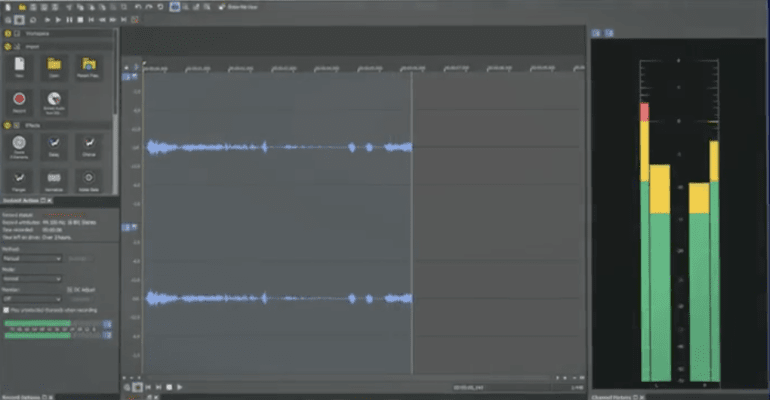 Last but not least, Sound Forge is an audio editing company that provides various applications for different tasks.
Their offerings are a little confusing, as the Sound Forge website currently advertises a number of different programs including Sound Forge Audio Studio 15, Sound Forge Audio Cleaning Lab 3, Sound Forge Pro 15, Sound Forge Pro 15 Suite, and Sound Forge Pro Mac.
The Audio Cleaning Lab is mostly focused on sound optimization, particularly when digitizing old audio content for the first time.
It comes with an automatic cleaning function plus a spectral display that makes it easy to identify individual sounds and remove or edit them as needed.
On the other hand, it's missing some of the deeper editing tools that you would expect from a traditional digital audio workspace.
At $99.99 for a lifetime license, it's a relatively cost-effective option for users who have narrowly defined needs related to audio cleaning.
Sound Forge's Audio Studio is a basic audio editing solution that's generally directed at home users, and it's even more affordable at $49.99.
While it comes with the same core set of features as most entry-level competitors, you'll need to upgrade to Pro for the full toolkit.
For example, Pro users can take advantage of crash recovery, ACID loop creation tools, and the spectrum analysis tool among other advanced features.
Lifetime licenses are currently available at $279 for Pro, or $399 for the Pro Suite.
The Pro Suite comes with ARA2 audio effects and some additional plugins like Vandal, wizardFX Modern Reverb, and Steinberg SpectraLayers Pro 8.
However, it's virtually identical to the base Pro license aside from those extra capabilities.
Sound Forge 3rd Party Plugin Formats
Sound Forge supports audio plugins in VST2 and VST3 formats.
With more voice over software available than ever before, voice professionals should look for a platform that's easy to use and offers the features they need at a reasonable price.
While there are many other options out there, you can't go wrong with any of the ten providers on this list.