Refine Search
Gender
Age
Category
Got Music?
Looking for fresh production music to go with your voice over?
Success Stories
Andreas Seidler, MT.Recordings
We've been working with Voice Crafters since 2012 on various IVR, commercial and corporate projects. They have a huge database with excellent voice artists, are very professional and at fair rates. We are happy to know them and look forward to the next 5 years!
Step 1
Invite to Project
Listen to samples and invite voice actors to audition and quote for your project.
Step 2
Hire Talent
Hire your selected talent, fund project and communicate via our message board.
Step 3
Release Funds
Approve the recording and release funds for the talent when happy.
Our Czech Voice Actors
The Czech voice actors at Voice Crafters are vetted professionals and are the best you'll find anywhere!
Whatever project you throw at us, whether it's a professional voice recording for:
or anything else, you'll find the perfect narrator for the job!
You can work with your talent of choice through our website to receive your broadcast-quality voice recording (typically within 24-48 hours). Alternatively, for projects with a bigger scope, just call on us to manage the entire process.
We can also sync the voice over to picture, mix it with a sound bed and add sound effects as you desire.
We can also do the video editing so you get the final product! Of course, we support all audio and video formats.
And there's more…
If you need a music bed track for your video or presentation, please visit our sister site – Audio Buzz. You'll find a huge catalog of original royalty-free music that's nothing short of amazing (and affordable!)
Feel free to contact us for help and suggestions on how to take your project to the next level!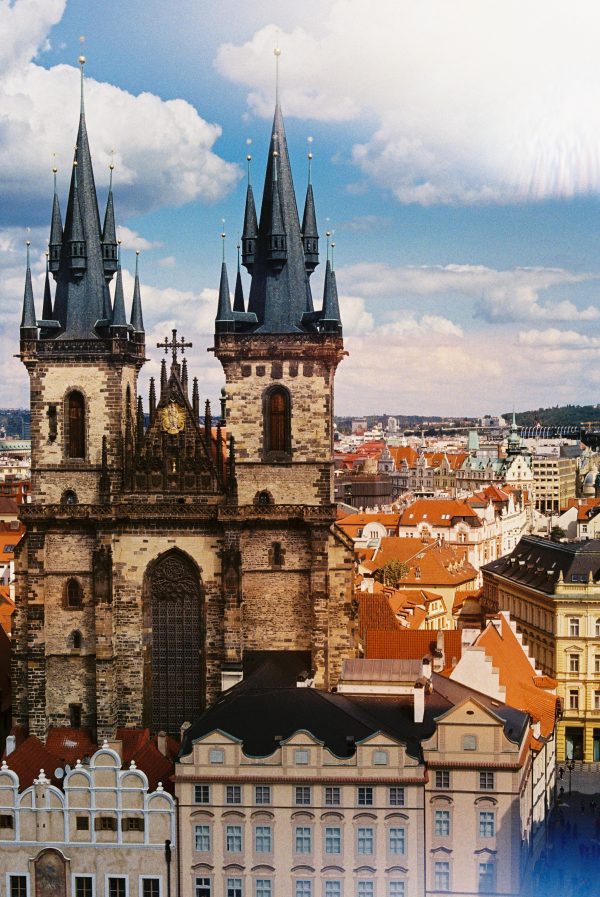 Czech voice overs: what you need to know
The Czech language is a Czech–Slovak language with more than 10 million native speakers . The language is primarily spoken in the Czech Republic where it is the sole official language of the country.
However, there are Czech speaking communities in other European countries, such as Austria, Bosnia and Herzegovina and Slovakia.

Did you know:
Historically, the Czech language had a different name – Bohemian. It was known by this historical name until the beginning of the 20th century.
Language History
Czech developed from the common West Slavic language. The earliest written Czech texts are dated to the 12th century.
However, Czech as a standard language emerged only between the 15th and 16th centuries. The development of a uniform literary language was spurred by innovations and reforms in Czech orthography.
Linguists consider that the Modern Czech standard was introduced in 1593 – when the Bible was translated to Czech.
Close Relations
Since Czech and Slovak emerged from the same Czech-Slovak language group, the both languages are highly mutually intelligible. Slovaks and Czechs can clearly communicate, despite the language barrier.
The close relation between the languages is historical – both languages were official in the state of Czechoslovakia until its dissolution in 1993.
Czech is also closely related to Polish. While not mutually comprehensible, the languages share a part of the vocabulary. Czech also borrowed from other languages – words of Greek, Latin, Hebrew, and German are commonly found in the Czech lexis.

Did you know:
Accents and Voice Over Tips
Czech has many various dialects that are categorized into four groups: Central Moravian, East Moravian, Silesian, and Czech dialectal. Most of them are mutually intelligible.
Standard Czech is the official written and spoken variation of the language that's used in media, education, politics, and science. The language standard is based on the 16th-17th Prague dialect.
When it comes to Czech recordings, keep in mind that Czech, like many Slavic languages, is inflectional. Words can have different endings that alter their meaning.
Czech has plenty of diminutives – they're usually used in informal language, so be aware of this when recording. If the text is not highly formal, it will most likely contain diminutives. When it comes to word stress, Czech words are usually stressed on the first syllable.
Words per minute
Because of its complex syllables and consonant clusters, Czech is not a fast spoken language. The common Czech tongue twister "Smrž pln skvrn zvlhl z mlh (Morel full of stains got wet from the fog)" illustrates the long consonant clusters that are present in the language.
When choosing the speed of speech, always make sure you know what your target audience is. Talking too fast when recording an audiobook or talking too slow when recording a commercial could be a deal-breaker!
Czech Voice Over Projects