Greek Voice Over Artists
Here at Voice Crafters, we offer some of the best Greek voice over talents online.
Our voice talents are 100% vetted and have a lot of narration experience under their belt.
Whatever the project, whether it's a corporate promo, an explainer product video, an e-learning module, IVR prompts or an audiobook, we have the perfect voice for the job!
Our clients trust us to consistently provide fast and courteous customer experience, as we've been doing since 2008! We provide pristine-quality voice recordings at super-tight deadlines.
But that's not all…!
We also provide supplemental services like sync to picture, sound effects, mixing,  mastering and more!
If your project requires video editing and encoding – look no further! Our end-to-end service ensures you have everything you need under one roof!
Please browse our voice actors' profiles below and find a match for your upcoming project.
You can also enter keywords in the search bar, like "warm", "bassy", sincere" or others to find exactly what you're looking for.
Don't hesitate to let us know if you need any help or have questions about our service!
Gender
Age
Category
Got Music?
Looking for fresh production music to go with your voice over?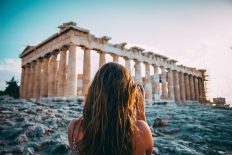 A Brief Background of the Greek Language
Greek is the oldest Indo-European language in history.
While the Greek language is native to Greece, it is also an official language of the European Union and Cyprus.
Greek is spoken widely throughout 9 other countries, such as Australia, Italy, Albania, and Turkey.
Greek has been a documented language for more than 34 centuries. Thanks to the Greek language, alphabet, and numbering systems, Latin, Gothic, Coptic, and Cyrillic were eventually created.
The Greek language has played an important role in all of the world, through science, mathematics, literature, and religion. The New Testament of the Bible was originally written in a form of Greek, as were the works of Plato and Aristotle.
Between the Greek speaking countries, neighboring regions with Greek language leanings, and those who have moved to other areas of the globe, Greek is spoken by nearly 14 million people.
Due to its long history, notable as one of the first recorded languages, many other languages have words with Greek origin. English is a great example of this, as many English language words stem from Greek phonetics or pronunciation.
Before reaching the modern form of Greek that is relevant today, the language has transformed and mutated many times, from Proto-Greek in the third millennium BC to Ancient Greek spoken during the height of the Roman Empire.
Our voice actors at Voice Crafters are all native Greek speakers and are ready to hit the "record" button and voice your next project.
Contact us today and receive a high-quality voice recording within 24-48 hours!