Refine Search
Gender
Age
Category
Got Music?
Looking for fresh production music to go with your voice over?
Success Stories
Audelia Boker, NICE
My team works with Voice Crafters on an on-going basis and it's always a no-brainer experience! Professional. Fast. Flexible. Creative. Customer Centric. Good Value for money. What more can one ask for?!
Step 1
Invite to Project
Listen to samples and invite voice actors to audition and quote for your project.
Step 2
Hire Talent
Hire your selected talent, fund project and communicate via our message board.
Step 3
Release Funds
Approve the recording and release funds for the talent when happy.
Our Ukrainian Voice Actors
Here at Voice Crafters you'll find some of the best Ukrainian voice actors on the planet!

Each narrator is a pre-screened, professional Ukrainian speaker who's invested years in perfecting their craft. All are versatile and have experience recording in various styles, so whether you're working on:

Or any other production requiring that perfect Ukrainian voice recording, rest assured the audio you'll get will be in broadcast quality.
Choose a voice actor you wish to work with and communicate directly through our platform until you receive your voice recording (typically within 24-48 hours). For larger projects requiring localization and/or post-production work, you can contact us to manage everything for you from start to finish.
Need to sync the audio to video? add sound effects?mix the voice recording with a music bed? Do some video editing and After-Effects? Let us handle it for you!
We are experts at localizing media and translating videos to Ukrainian. So, if you need services like video translation and subtitling, just let us know.
And that's not all…!

If you need hand-picked, original production music for your video or presentation, check out our royalty-free music site – Audio Buzz where you'll find a huge selection of awesome music at a great price!
And of course, if you need any help, just let us know. We can help cast the perfect voice for you and answer and questions you may have.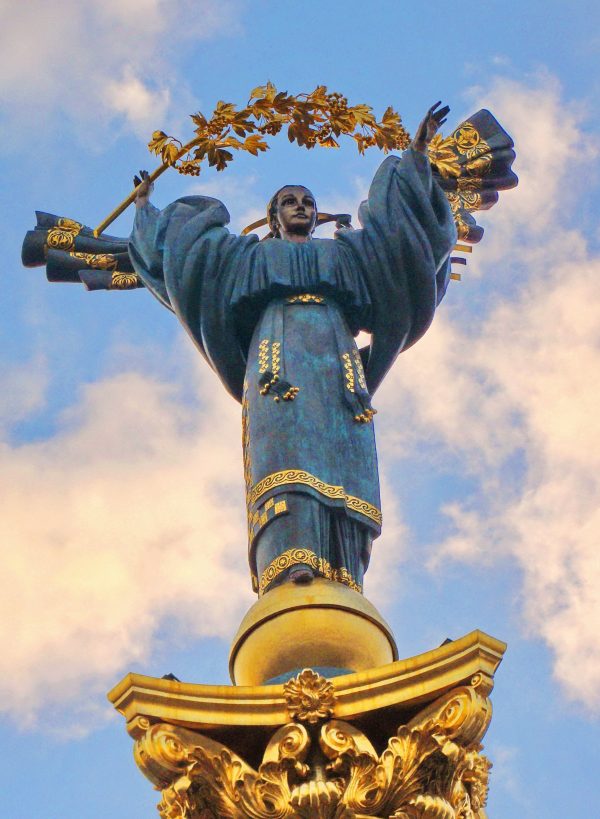 Ukrainian voice overs: what you need to know
Ukrainian is an East Slavic language, most widely used in the republic of Ukraine. Around 35 million people are native Ukrainian speakers. Additionally, 5 million people speak it as a second language.
Ukrainian is the sole official language in Ukraine. It's also claimed to be one of the official languages of Transnistria — an unrecognized state near Ukrainian and Moldovan borders.
The Ukrainian speaking communities are prevalent in Eastern Europe, most notably in Belarus, Russia, and Moldova. It's also spoken in the US, Canada, and Brazil by Ukrainian expatriates.

Did you know:
Ukrainian is the second most widespread Slavic language in the world — the first being Russian. Ukrainian also ranks in the top 50 list of the most spoken languages in the world.
Language History
Like other East Slavic languages, Ukrainian developed from the Old East Slavic language — a common language that was used in Ukraine, Russia, and Belarus. Ukrainian as a distinct variety emerged somewhere around the 13th century after the fall of Kievan Rus. Around that time, the first independent varieties of Ukrainian, Belarusian, and Russian emerged from the Old East Slavic language.
For many centuries, Ukrainian did not have a literary tradition — the language was only spoken. Ukrainian co-existed with a literary language that was based on Church Slavonic. The first literary works in Ukraine appeared only in the 18th century, marking Ukrainian's shift from being a spoken vernacular to a fully-fledged independent language.
During the Soviet Era, Ukrainian went through a period of Russification and persecution. Ukrainian was banned in education, newspapers, and other publications. When Ukraine gained back independence in 1991, Ukrainian became the sole official language of the state.
Close Relations
Ukrainian is related to other languages with the same Slavic roots. Most notably, Ukrainian shares many similarities with Russian and Belarussian.
In fact, the three languages have a high degree of mutual intelligibility. While Russian and Belarussian are more mutually intelligible, linguists claim that spoken Ukrainian and Russian share 50% of the same features.
Unlike the other two Slavic sister languages, Ukrainian has some similarities to Polish. Polish and Ukrainian share a big part of the vocabulary as well as grammar rules.
Ukrainian inherited its core vocabulary from its Slavic past. But during the centuries, Ukrainian also borrowed from other languages as well. Words of Polish, Greek, Latin, French, Russian, and English origins are quite common in modern Ukrainian vocabulary.

Did you know:
There's a mixed Russian and Ukrainian language called Surzhyk. Surzhyk uses vocabulary and pronunciation features of both languages. Around 18% of Ukrainian speakers use Surzhyk for daily communication.
Accents and Voice Over Tips
Dozens of Ukrainian dialects exist and they are divided into three regional groups: Northern, Southwestern, and Southeastern. The majority of the dialects spoken in Ukraine are mutually intelligible. However, the language varieties used by Ukrainian emigrants can greatly differ from those spoken in the homeland.
Standard Ukrainian that's used in official matters, education, and literature is based on the Middle Dnieprian dialect — a southeastern dialect, spoken in the capital of Kyiv.
Similarly to Russian and Belarusian, Ukrainian is a heavily inflected language — word endings can change their meaning. Additionally, it's particularly important to pay attention to the word stress — Ukrainian has rather unusual stress patterns. In general, Ukrainian doesn't sound too strange to the foreign ear. It doesn't have extensive consonant clusters or unusual sounds.
When recording a Ukrainian voice over, make sure you're paying the most attention to the word endings and word stress — these two features can really make or break the speech!
Ukrainian Voice Over Projects