Whether you're building on an existing project or starting from scratch, creating a new podcast is a major step.
Podcasts are a powerful way to engage with listeners and reach new audiences.
The longer format also gives creators the opportunity to explore topics in greater depth than is possible in other kinds of media.
Furthermore, it's clear that audiences have been getting more and more interested in podcasts over the last several years.
The number of American monthly podcast listeners more than doubled from 32 million in 2013 to 75 million in 2018, and it's expected to double again to 164 million by 2023.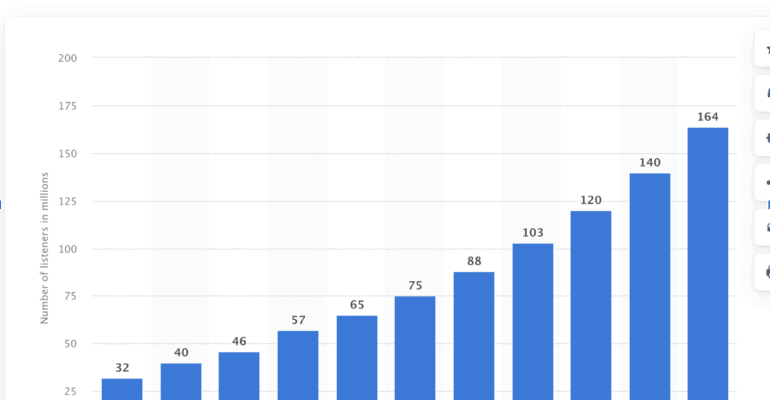 Source: Statista
You can still connect with audiences on other channels, but Apple, Google, and Spotify are clearly the kings of the podcasting industry in 2022.
Getting your podcast published on these platforms is the best way to maximize outreach when starting a new podcast.
In this article, we'll explain how to submit your podcast for publishing to these three channels.
How to Submit Your Podcast to Apple
There are two different ways to publish your podcast on Apple's podcasting platform.
The first option is to submit the podcast as an RSS feed hosted by another provider.
Alternatively, you can become a part of Apple's in-house Podcasters Program and sell subscriptions through Apple Podcasts directly.
To connect an RSS feed to Apple Podcasts, start by going to Apple Podcasts Connect and clicking "Add."
From there, you'll need to confirm that you want to add an RSS feed and then enter the URL associated with your podcast.
At that point, all that's left is to choose the settings you want to use to publish the podcast.
For example, you can make your podcast accessible to the public or limit access to a specific group of users.
You can also add custom messages, adjust regional availability, schedule release dates, and more.
Publish Through Apple Podcasters
Even if your show doesn't have an RSS feed, you can still publish it on Apple Podcasts through the Apple Podcasters Program. One of the main benefits of this approach is that you can offer subscriber-only benefits that are exclusive to the Apple Podcasts platform. As with RSS feeds, the first step is to navigate to Apple Podcasts Connect and select the "Add" option.
Since you're creating a new show instead of importing an existing one, you'll need to enter a little more information.
Apple will ask you for the podcast's name, artist, description, channel, type, update frequency, category, language, website, and copyright details.
There's also an option to mark your show as containing explicit content.
Regardless of whether you publish an RSS feed or a new Apple Podcasts show, your podcast will need to be technically validated and reviewed before it becomes available to users.
The technical validation should go by quickly, but Apple may take time to review the show's content and make sure it meets their guidelines.
This video offers a detailed visual guide for creators who need help submitting a podcast to Apple:
How to Submit Your Podcast to Google
Google has long been the most popular search engine on the internet, so it's no surprise that it's also a lucrative podcasting platform.
Once you publish a podcast on Google, it will be available to users through many different channels.
Google currently distributes podcasts through each of the following platforms:
Google searches with in-browser playback
The Google Podcasts website
The Google Search app for Android
The Google Podcasts app for Android and iOS
Smart speakers and displays with Google Assistant
Google Assistant Content Action
Apple CarPlay and Android Auto
Google Discover
You can make your podcast available on Google by either managing your own RSS files or relying on a podcast hosting service.
As we saw with Apple Podcasts, connecting a podcast to Google depends on how your files are hosted.
Unlike Apple Podcasts, Google indexes podcasts automatically, so you won't have to go through the kind of process we covered above.
If your podcast is hosted by a third-party provider, it may already be available on Google through the automatic indexing process.
That's also true in situations where you manage the RSS direct files directly, but you will have to do more of the legwork yourself in this case.
There are only two main conditions required to get your podcast on Google:
You must have already published at least one episode.
The RSS feed and audio files must be accessible online without a password.
Podcasts that are protected by a password or other block are not able to be indexed.
If your show meets these two conditions, there are a few things you can do to make sure that Google recognizes the podcast and starts making it available to listeners:
Follow your host's instructions to publish the podcast
Go to Google Podcasts Manager and verify your ownership of the show
Publish your podcast through PubSubHubbub
Use the Google Search Console to request a crawl of your homepage
How to Submit Your Podcast to Spotify
Finally, Spotify is the third main platform where almost every podcast creator will want to publish their show.
Spotify has common ground with both Apple and Google when it comes to podcasts.
Similar to Apple, Spotify is a closed platform, so it won't pull your podcast automatically like we saw with Google.
On the other hand, Spotify is more like Google in that it doesn't host podcasts itself — the only way to get a podcast published on Spotify is to link to an external RSS feed.
The publishing process is extremely simple if you're already working with a major podcast aggregator.
The Spotify website provides a directory where you can find more information about this for more than 25 unique podcast services.
Even if you're working with your own RSS feed, it should only take you a couple of minutes to connect that feed to Spotify.
First, go to Spotify for Podcasters and log into your Spotify account (or create an account if you don't yet have one).
After logging in, Spotify will ask for the link to the RSS feed.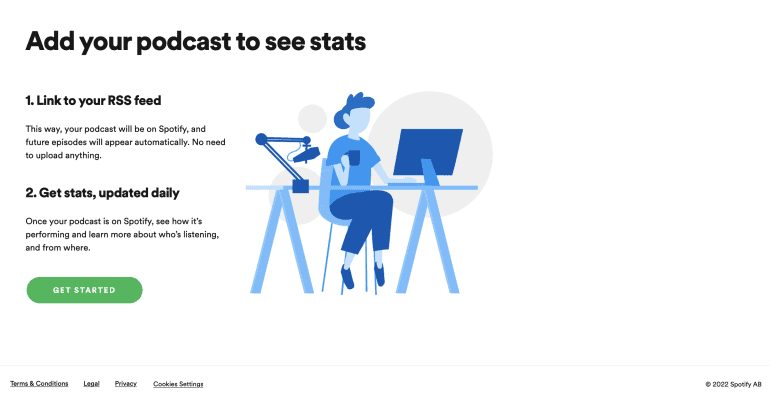 You will need to verify your email address with an authentication code in order to confirm that you're the owner of the podcast.
This is also where you'll add in the details of your podcast such as its category, language, and location.
As soon as you click "submit," you should be able to access your podcast on the Spotify website through the provided URL.
According to their guide, however, it can take as long as a few hours for newly uploaded podcasts to show up in the Spotify app.
Final Thoughts
If you want to connect with an audience for your podcast, you need to get it published on the most popular channels.
In 2022, the top three players are Apple, Google, and Spotify. Without availability on at least these three services, you'll have trouble getting the word out and generating interest with new listeners.
Fortunately, making your podcast available on Apple, Google, and Spotify is easier than it might sound.
While each platform has its own unique publishing process, all three of them make it relatively simple to get a podcast listed.
These tips will help you get through this process as quickly as possible and focus on the creative side of your new podcast.
To make your podcast as successful as possible, you need to work with voice actors who can give your show a unique sonic identity.
Check out our team of experienced podcast voice actors and hire a professional voice actor who's a good fit for your project.