Refine Search
Gender
Age
Category
Got Music?
Looking for fresh production music to go with your voice over?
Success Stories
Andreas Seidler, MT.Recordings
We've been working with Voice Crafters since 2012 on various IVR, commercial and corporate projects. They have a huge database with excellent voice artists, are very professional and at fair rates. We are happy to know them and look forward to the next 5 years!
English (Canadian)

Canada
Hi I'm Tim, a professional Canadian Voice Actor. A strong, bold, dynamic voice can bring your idea t...
Tim R.

English (Canadian)

Canada

Hi I'm Tim, a professional Canadian Voice Actor. A strong, bold, dynamic voice c...

Get a quote now

Invited
Step 1
Invite to Project
Listen to samples and invite voice actors to audition and quote for your project.
Step 2
Hire Talent
Hire your selected talent, fund project and communicate via our message board.
Step 3
Release Funds
Approve the recording and release funds for the talent when happy.
Our Canadian Voice Actors
Voice Crafters represents some of the top Canadian English voice actors you'll find online.
We vet every single talent, so you're guaranteed to receive broadcast-quality recordings from experienced professionals. Whether you need a voice over for:
No matter the job – you'll find the perfect voice for it.
You can either work directly with the voice artist best suited for your creative project through our platform, or for more substantial projects, just ask us to manage your project for you.
We have a years of experience with audio production and post production under our belt, so you're guaranteed excellent results!
You'll be glad to know that we perform and post-production tasks, be it sync the to picture, adding SFX, mixing, mastering and more!
And there more…!
If you need high-quality royalty-free music, you'll find a huge library of hand-picked music tracks for your creative project on our sister site – Audio Buzz right here!
And please –  don't hesitate to contact us for any help or advise. We're here to help!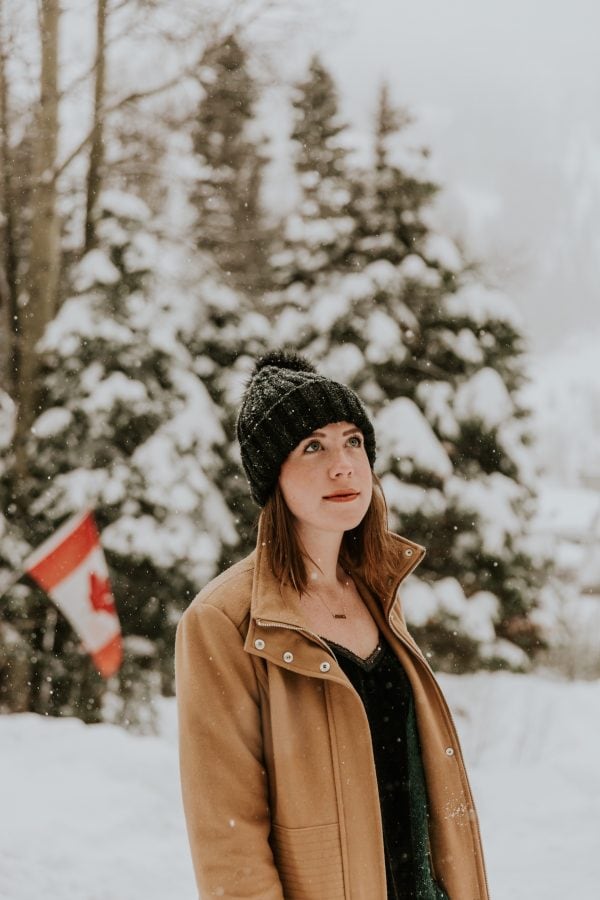 Canadian English voice overs: what you need to know
Canada is a multilingual nation. English and French are its official languages at federal level. This means that all government services are bilingual, including courts and the legislature. There are varying laws at the state level, too.
English is the mother-tongue of 56% of the population, which is around 19.4 million people. (French mother-tongue speakers make up 20.6% of the population and speakers of other languages – 21.1%.) However, 86.2% of Canadians have working knowledge of English.
In addition to French and English, there are 65 indigenous languages, including Cree, Inuktitut, Mohawk and Ojibwe. And immigrants to Canada have of course brought their native tongues with them.
Language History
Canadian English is the result of immigration and settlement over the course of more than two centuries. It started with a wave of British loyalists fleeing American Revolution. A second wave consisted of British and Irish settlers, invited by the governors of Canada after the War of 1812. Three more waves of immigration have taken place in 1910, 1960 and at the present time, with newcomers from around the world.
While the US won independence from Britain, Queen Elizabeth is still officially the Queen of Canada even now. Not surprisingly, Canadians have adopted a more British-centric approach to language. The process of documenting and analysing Canadian English has taken place only within the last 100 years. And the first Canadian dictionary was only published in 1962.
Close Relations
All variants of English form part of the Germanic family tree. Canadian English has also been uniquely influenced by French and indigenous languages.

Did you know:
Canadian English mostly uses British spelling. However, since its car industry has close links to the USA, it uses US spelling for words like tire. Canadians also say 'gas' rather than 'petrol' and 'trunk' rather than 'boot'.
Accents and Voice Over Tips
Canadian and American English are grouped together as North American English. It can be difficult for outsiders to tell the difference between a Canadian and American accent. Of course, this isn't the case for people living in Canada (or the US).
There are five main Canadian accent groups: West, Ontario, Quebec, Maritimes and Newfoundland. Nevertheless, they are mutually understandable.
When it comes to measurements, Canadians use a mixture of metric and US units. For example, the weather forecasts are in Celsius, but people use Fahrenheit for cooking. Confusing, right?

Did you know:
90% of Canadians live in the border region (up to 200km from the US/Canada border).
Words per minute
Canadian English speakers average a rate of 150 words per minute. We would advise you to always consider the target audience and project purpose though. The younger the audience and the denser the text, the more your voice actor should slow down.
English (Canadian) Voice Over Projects