Traditional real estate strategies are still alive and well, but the industry has been dramatically transformed by the rise of the virtual tour and other methods of selling properties online.
These trends have been further accelerated by the COVID-19 pandemic, which has placed an even greater emphasis on the listing video.
If you want to get a potential buyer interested, you need to create an enticing video tour that gives viewers a real feel for the property.
Continue reading to learn everything you need to know about developing high-quality home tours with a professional voiceover.
The Benefits of Real Estate Voice Overs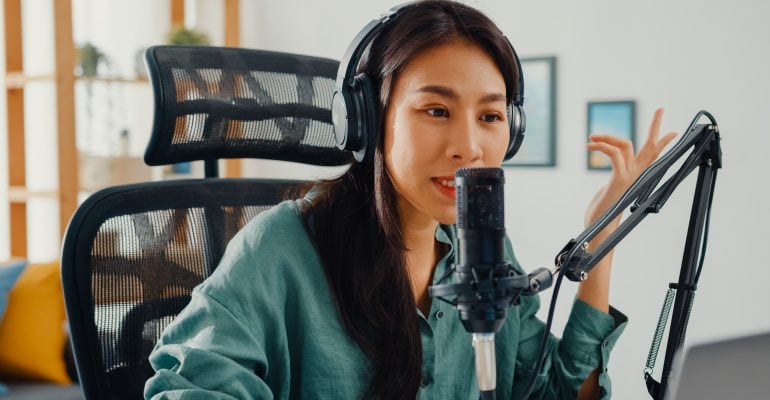 If you aren't leveraging the power of voiceover in your online content, you're missing an opportunity to engage with prospective buyers.
In fact, websites like Zillow, Trulia, and Yahoo! Homes receive tens of millions of unique visits every month.
An engaging voice over will go a long way toward differentiating your listings from the competition.
Real estate professionals can quickly add voiceovers for their video clips with contributions from writers, voiceover artists, video editors, and other professionals.
While a real estate video provides some value on its own, professional narration will give viewers more context for the property they're looking at.
This can give them more confidence in the listing and help realtors generate more leads through their digital advertising.
Creating Real Estate Voice Overs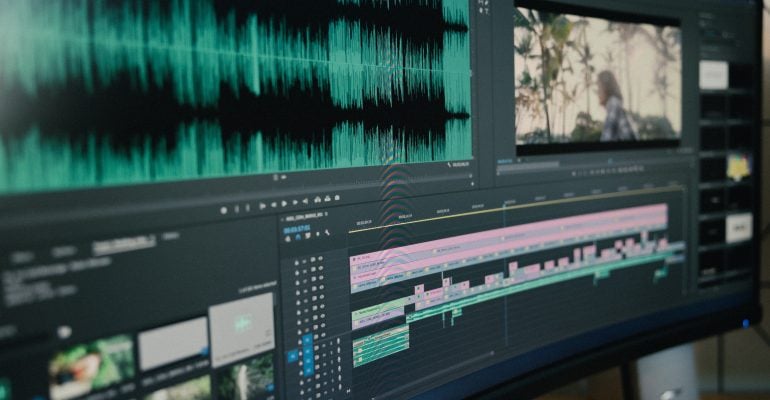 Crafting a fully edited voice track for your web video takes time, but you can streamline the process by developing standard practices and building relationships with reliable voice talent.
In this section, we'll go through the process of developing a new home tour, including everything from filming the videoclip, writing the script, to recording a voice over and getting the word out about your properties.
Recording Your Video Clip
Before writing a script, you'll need raw video footage to match up with the audio.
This stage of the process is mostly similar whether or not you're planning to use an audio track.
With that being said, you'll want to spend enough time filming each area to allow the voice actor to speak to any relevant details.
You can always edit out footage you don't need, so it's better to have more than you can use for the editing stage.
Scriptwriting
Writing a script for your upcoming video is all about highlighting the information that the average listener is likely to be interested in.
Fortunately, you should already have all the relevant information about the home.
Scriptwriting itself involves translating that raw data into an engaging script.
Scriptwriting isn't as complicated as it may sound, but you may prefer to work with a professional copywriter to ensure your script is polished and inviting.
You might be especially interested in a writer that has experience in the real estate niche and understands what your viewers are looking for.
Rather than focusing on the features themselves, talk about how they physically feel or look during an in-person video.
Try to transport viewers to the property and describe what being inside the property really feels like.
It's obviously important to have the script timed with the pace of the video (once fully edited, of course).
This will make the video itself easier to follow and help you complement the video clip with relevant narration for each section.
Check out our guide to formatting voiceover scripts to learn more about giving your voice actor the information they need to create the recording you're looking for.
Remember that viewers will be interested in information about the neighborhood and surrounding area as well as the details of the property itself, so be sure to dedicate a section in your video about it.
You can do this by highlighting important benefits that resonate with your target audience.
If this is a young family, you could mention the school district and/or activities for children. For young, single professionals, you could accentuate the nightlife and fine dining in the area.
Once you have relationships in place with writers, developing new scripts will be as simple as sending them the information and video footage for a given property and waiting to receive a finished product.
Hiring a Voice Actor
Along with the script itself, finding a voice actor is one of the most important decisions you'll make in this process.
The first thing you should look for when posting a voiceover project is clarity.
It might sound simple, but speaking clearly in a voice recording is more complicated than it seems.
Furthermore, the right voice actor will speak at a consistent pace and emphasize the most important points using their tone and pauses.
You want your voice actor to convey enthusiasm about the property rather than simply describing its features.
It's also important to look for a voice actor who matches the tone you want for the video.
A modern apartment in an urban area, for example, might be better presented by a younger voice actor with a more upbeat style.
On the other hand, a beach house could be better suited to a laid-back vibe that speaks more slowly and aligns with the luxury of the property.
In the video below, check out how the speaker underlines the home's elegance and matches that style through his tone of voice.
Creating Your Audio Clip
At this point, it's time to give your voice actor the script and work on a final audio recording.
Their tone should be calm and professional, but still engaging enough to keep a viewer interested.
Make sure to leave some extra time for pauses to emphasize important points that could persuade a prospective buyer.
Again, the recording process will become easier and easier each time you go through it.
Along with the voice over itself, you'll also want to find a music track that will fit the tone of the video and get viewers more interested in the listing.
Audio Buzz is a great source of royalty-free music for real estate marketing, with single-track licenses available for just $29.
If you have ongoing music needs, you can also unlock unlimited downloads for $189 per year.
7 individual licenses will cost $203 at $29 each, so any organization that uses 7 or more tracks per year should consider the annual subscription.
Editing
Your first step in the editing phase is to work on the visuals.
You can hire a video editor or use an online video editor to pick the best footage from your shoot and arrange it the way you envisioned, and that aligns with the copy you've created.
Now that you have your video and audio, the last step involves combining them into a seamless product.
Some voice actors also offer editing, but you may need to work with a professional editor if your voiceover artist doesn't have those skills.
First, they'll need to edit the voiceover file itself to remove any breathing or background noise that could affect the quality of the recording.
They will also make a point to adjust the volume of certain consonants.
Plosives like "p" and "b," for example, tend to come out much louder than other sounds in an audio recording.
You should also work with your editor to adjust the timing so that each section of the voice over aligns exactly with the corresponding part of the video.
Finally, watch the entire video yourself to identify any remaining issues that weren't resolved during earlier rounds of editing.
Marketing
In order for your videos to have any effect on sales, you'll need to get them in front of as many potential buyers as possible.
Virtual tours should accompany your listings on a variety of platforms so that you can meet leads wherever they're looking for a home.
Social media channels like Facebook, YouTube, and Twitter offer additional opportunities to forward-thinking agencies that want to increase outreach.
To succeed in the real estate market, you'll need to keep an eye on where buyers are looking and make your messaging more accessible for that audience.
Adding a professional voice over to your videos will make them more engaging and help you convince more prospective buyers.